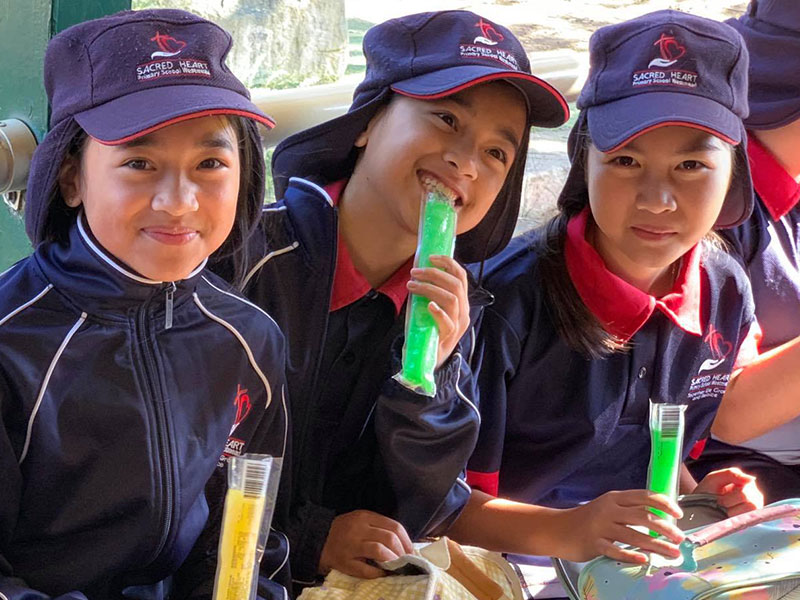 Sacred Heart Westmead students enjoying some iceblocks after sitting their NAPLAN
NAPLAN returned this year following its cancellation in 2020 due to COVID-19. While the ongoing debate about the nation-wide assessment for students in Years 3, 5, 7 and 9 continues, schools in the Diocese of Parramatta have a positive approach to how they can use the insight gained from the tests to inform learning and teaching in the classroom.
In the lead up to the testing dates, St Bernadette's Primary Castle Hill Principal Bianca Cooke said she told students and parents not to stress and reminded them that it is just one measure of their learning achievement so far in their educational journey
"We were confident that our students were organised and ready to go with NAPLAN," Bianca said. "While the results give the school good data about each learner, the daily work of our wonderful teachers means we are already on top of this information."
St Joseph's Primary Kingswood Principal Trish Reilly echoed this stance and said her school takes a very positive attitude, encouraging students to use the test as an opportunity to show what they can do.
"Within our learning spaces students collaborate with their peers and teachers every day," Trish said. "NAPLAN provides our students the opportunity to show what they can do individually."
"We then use the results to inform our work and professional development in the school, identifying our strengths and areas of improvement for learning and teaching," she said.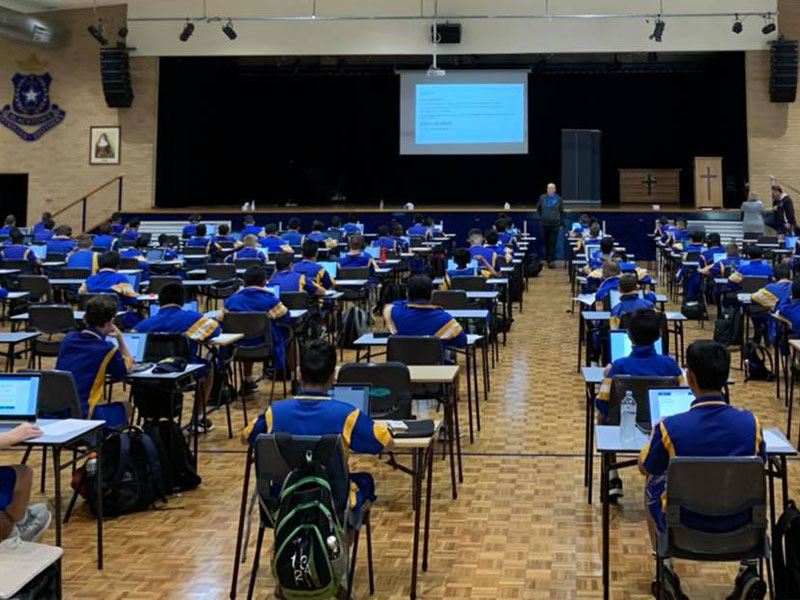 Students from Patrician Brothers Blacktown sit their NAPLAN
Secondary students in Years 7 and 9 students also undertook the recent NAPLAN tests. Teacher Jennifer Scotney from Marian College Kenthurst said while NAPLAN has become a controversial topic as to how data is used, and schools and students judged, it is an extremely useful tool for teachers to assess the level of comprehension in their students
"We do not 'teach to NAPLAN' we ensure that the skills required for students to confidently approach and complete the test are embedded in programs," Jennifer said. "We largely concentrate on writing skills as these are often the most challenging for students."
Principal Mark Compton from Bede Polding College Windsor said the test results needed to be understood as part of the larger picture.
"We educate the whole child, NAPLAN is just one measure and for that reason, we keep it in perspective," Mark said. "We encourage our students to approach it with a growth mindset, to just do their best and we can use the data to support their learning moving forward."
NAPLAN was held 11-13 May, results will be released later this year.