Sacred Heart Primary Westmead, is a small school with a big heart!
Our students are nurtured, respected and encouraged to become the best learners they can be. Students learn in an environment focused on cooperation, harmony and accountability, through the cooperative learning approach that is used in all subjects and across all year groups.
---
Our Vision Statement
Sacred Heart Primary, Westmead, is a Catholic school where each individual is respected and nurtured to achieve their potential, within a changing and challenging educational environment.
Each member of our community is empowered with a sense of hope for the future.
---
Our Mission Statement
Our mission at Sacred Heart Primary is to nurture individuals within a positive Catholic community.
We are committed to:
providing quality education
creating a welcoming environment.
nurturing all individuals
We celebrate:
our faith
our achievements
our multiculturalism
We value:
the dignity of each person
the home/school partnership
the individuality of each person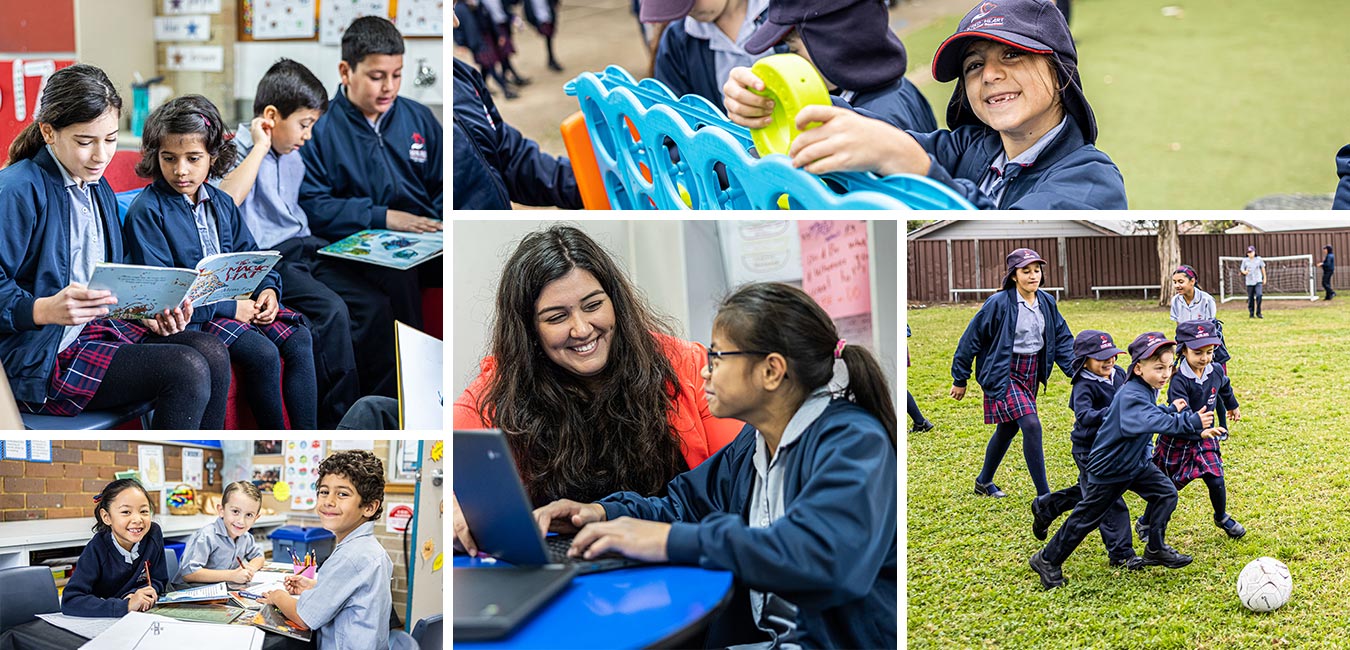 ---
Our Belief Statements
Sacred Heart Primary School, Westmead is on a journey of school transformation. We are creating a culture of 'deep learning' that is profound, empowering and continually emerging. The pedagogical framework underpins student and staff engagement, interactions and learning.
The 4 pillars (Catholic Faith, Kagan Cooperative Learning, 4Cs and the Learning Disposition Wheel) are mutually dependent and are a holistic approach to learning. Our aim is to foster curiosity, spark the imagination, develop agency and the dispositions for life-long learning.
Staff
We believe:
successful learners are led by effective teachers who are professional, ethical and focused on the learning needs of each student
each person is valued and must be treated with respect
staff should be co-operative, collegial and collaborative
Learning and Teaching
We believe:
in a Deep Connected Learning (DCL) approach we aim to develop self-directed learners with the 4C Capabilities of communication, collaboration, creativity and critical reflection.
assessment drives teaching and learning
learners can take responsibility for their own actions and choices
teachers provide structured experiences using the constructivist approach of the to, with, by model
cooperative learning creates strong interpersonal and intrapersonal relationships
learning happens when it is child-centred and when learners are engaged and have a voice
teachers provide learning experiences to cater for all learning needs
Students
We believe:
students should respect the dignity and uniqueness of each person
students learn through their preferred learning style and at their own developmental level
students should develop a love of learning – relating, choosing and thinking as independent learners
---
Our History
Sacred Heart Primary was established in 1956 by the Sisters of Mercy. The Mercy tradition continued until 1993, when Mrs Sattler was appointed the first lay Principal of the school. Lay teachers now hold the executive positions as well as being class teachers.
For a few years the school only took boys to Year Three, after which they were moved to Parramatta Marist Junior School. It was not until 1991 that Sacred Heart educated boys to the completion of year six. In 1999, Sacred Heart was extended and improved by the Catholic Education Office, increasing the enrolment of the school to over 200 students.
A close relationship exists between the School and the Parish and we are very fortunate to have a church on site. In December 2002– early 2015 the care of both the parish and school was transferred to the Camillians (Ministers of the Infirm). Fr Walter Fogarty is the current Parish Priest.
We are committed to providing quality education in a welcoming environment.
We celebrate our faith, our multiculturalism and achievements.
We value the dignity of each person and the partnership between home and school.