Sacred Heart Primary offers a comprehensive and stimulating curriculum that follows the syllabus directed by the NSW Educational Standards Authority (NESA) in all Key Learning Areas.
We also follow the Parramatta Diocesan Religious Education curriculum.
We use a holistic approach to education (focusing on spiritual, academic, emotional, social and physical development), so that students achieve their potential.
Our school is well equipped with networked computers in every classroom and caters for the 21st Century learner.
We offer quality teaching by staff members who are caring, professional, dedicated and hard working. Instruction is offered in the following Key Learning Areas.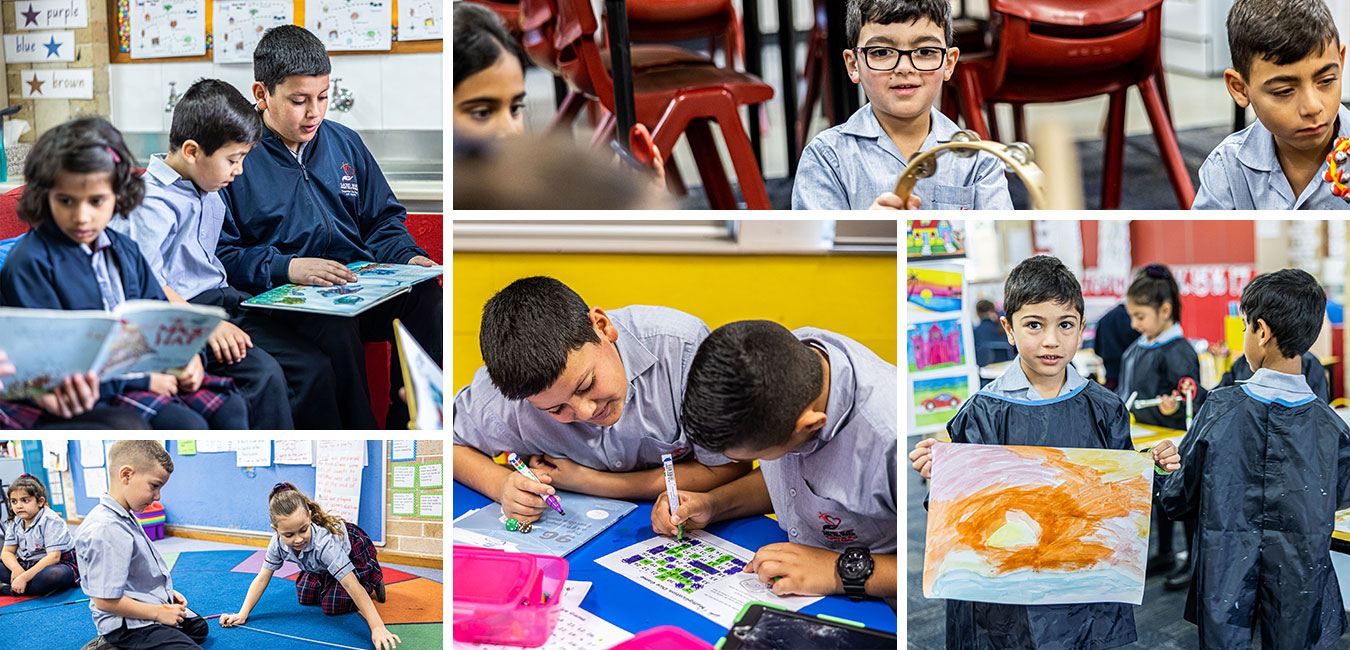 ---
English
Literacy at Sacred Heart is an exciting and stimulating time. It is incorporated into the school timetable for a 2 hour literacy block/session. The daily literacy sessions include opportunities for the students to engage in talking, listening, reading and writing activities in a series of whole class, small group, pair and individual experiences. Students are exposed to a variety of literature through the forms of spoken, print, visual, multimedia and digital texts.
Guided Reading is an approach which enables a teacher and a group of students to talk, read and think their way purposefully through a text. This approach allows students to become fluent, independent readers. The teacher observes and supports each student, and their progress is monitored according to their individual progress.
Reciprocal Reading is reading where dialogue between the teacher and student is used to develop the comprehension strategies of activating and using prior knowledge, summarising, predicting, identifying, visualising, making links and making inferences. Information texts, newspapers and magazines are used in this type of reading session.
Modelled, Guided and Independent Writing are the steps which explicitly teach the skills of drafting, revising, conferencing, editing, proofreading and publishing an imaginative, persuasive or informative text. Producing texts also includes the development of computer skills used in the production of text, graphics and multimedia presentations.
---
Mathematics
Our Mathematical communities are dynamic places of learning where Mathematics is seen as being specific to life. Students are given the opportunity to investigate, explore and manipulate both concrete materials and abstract ideas through rich tasks.
The process of their learning is expressed orally, pictorially and symbolically. Reflective practice plays a significant part in each curriculum area. In Mathematics, the students articulate their thinking and reasoning, enabling deeper conceptual understandings. This allows them to learn to apply learning and skills to other areas. During the first four weeks of every year, every student participates in a one-on-one interview (approx. 30 minutes) with their classroom teacher to ascertain the mathematical strengths and areas for development and to influence goal setting. These are continually reviewed throughout the year.
---
Science and Technology
Science and Technology is the area through which all students learn about the natural and man made environment by investigating, by design and make, and by using technology.
Due to the rapidly changing nature of the science area the aim of Science education is to provide students with the processes and skills required to access knowledge. Science education assists students to understand themselves and the environment and provides opportunities for them to develop independent rational thought and responsible action. Students in K-6 participate in lessons where emphasis is on first-hand experiences; investigation; design and make; problem solving and clarifying understandings.
As technology continues to influence and shape our world it is not surprising that technology is also bringing about dramatic change in the classroom. The technology within the school is enhanced through the use of ICT (Information Communication Technology) within each class. With Internet access in all classrooms, emphasis has shifted from the computer being used only as a word processing tool to various technologies providing more powerful, world wide learning resources. The students are encouraged to access these tools and are supported in its use to enrich learning, to locate information, to broaden their knowledge and understanding of world issues and present information that engages others in the learning
The students are very comfortable using the school digital cameras, iPads, data projector, interactive whiteboards and network printers to enhance their learning and work presentation. Students learn skills in basic graphics, information and communication, spreadsheets, software, word processing, multimedia and are supported to make decisions about discerning internet use and ethical use of information. The majority of our digital technology is Macintosh and Apple specific programs.
---
Music
Music plays an integral part in the life of Sacred Heart Primary School. It enhances the prayer life of the community; it is a source of entertainment at events such as school assemblies, discos and end-of-year functions; and it provides students with an opportunity for meaningful self-expression.
At Sacred Heart, Music is taught in accordance with the guidelines as set out in the NSW Creative Arts K-6 Syllabus. Each student participates in Music lessons with a specialist music teacher. Music is also integrated into other Key Learning Areas throughout the school day. Students at Sacred Heart have the opportunity to participate in external lessons by a qualified music teacher.
---
Visual Arts
During Visual Arts lessons artistic talents are expressed, fostered and valued. Each class is given the opportunity to participate in Visual Arts lessons in accordance with the NSW Creative Arts K-6 Syllabus.
The learning experiences are adapted, paying close attention to the needs of individual students. The students are exposed to a variety of Art-making techniques, which include: drawing, painting, colouring and paper craft.
---
Drama
The Drama Program is designed in accordance with the NSW Creative Arts K-6 Syllabus. This document organises dramatic skill and understanding into the areas of Creating, Performing and Appreciating. Students from K-6 participate in lessons that explore many aspects of dramatic experiences including mime, improvisation and movement. Lessons incorporate specific skill teaching and performance opportunities.
Students move from the familiar such as Nursery Rhymes and traditional stories, through to abstract experience in the creation of their work. Students are encouraged to develop and extend their skill both individually and in groups.
Students also participate in Drama Literacy which is a Captivate initiative that is designed to increase literacy skills through the medium of Drama. Sacred Heart is involved in a Drama Literacy program on a weekly basis. Captivate tutors work alongside the classroom teachers to build capacity and develop skills in communication. In addition to literacy and communication skills, students develop performance, play building and role playing skills.
---
Personal Development, Health and Physical Education (PDHPE)
The aim of the Personal Development, Health and Physical Education (PDHPE) curriculum is to develop in each student the knowledge and understanding, skills, values and attitudes needed to lead healthy, active and fulfilling lives. This syllabus is directly concerned with supporting the development of the student as a whole person. Learning in PDHPE extends beyond the planned classroom lesson and is reinforced by the Pastoral Care Program, Religious Education Program and other Health-Promoting activities.
PDHPE is an important key learning areas as it:
encourages an understanding and valuing of self and others
promotes physical activity
emphasises informed decision making leading to effective and responsible action.
physical education lessons are taught by the class teacher each week. The students are also involved in formal Dance Lessons, Gymnastics and a two week Intensive
includes a 10 day swimming program designed to educate students about safety in the water