Canberra Excursion
07 Jun 2018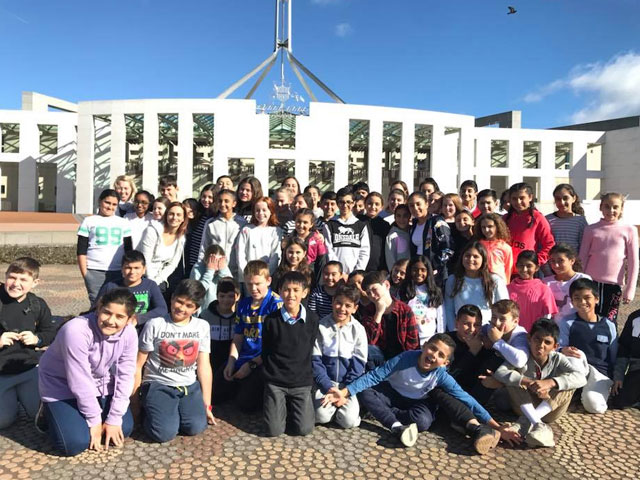 A school excursion to Canberra is almost a rite of passage for many young Australians
Stage 3 students of Sacred Heart Westmead recently had their turn at visiting our National Capital to visit many attractions including Parliament House, the Electoral Education Centre, the War Memorial and, of course, a highlight for many — Questacon.
Thursday 31st May
On Thursday, after a long, tiring bus ride, we crossed the border to Canberra.
When we arrived, we stopped at the Parliament House first. Stage 3 explored all around Parliament house. We learnt about the government and democracy. We were also allowed into the House of Representatives and the Senate. The students were allowed to participate in a role play and act as people of the Parliament. In the Senate, we were answering questions like a pop quiz that the tour guide asked us. Year 5 and Year 6 were lucky enough to witness a real life scene in the House of Representatives.
Soon after leaving Parliament House Stage 3 made a quick pit stop at a park for lunch.
Afterwards we drove to The War Memorial and we spent two and a half hours of full on learning. All students interacted with each other in the D-zone. We explored the different sections and experienced the feelings of war time and the hardships of their life.
We shopped for souvenirs and then we attended the commemoration ceremony where Annie Burns and Joshua Sassine laid a wreath at the bottom of the pool of reflections.
After the War Memorial, we travelled to the Ibis style hotel. When we arrived we found out who was in our cabin. Once we settled we had dinner. The choice for dinner was to have creamy chicken pasta or vegetable pasta, with the side of bread and broccoli and cauliflower. After we ate we went back to our room and shared lots of lollies with the people in our cabin.
We were all tired from the busy day, but we couldn't wait for Friday.
Sharanya Kugan, Aishvi Sheehan and Alannah Elcham
Friday 1st June
The next morning we woke up to the teachers knocking on our door. As soon as we all got ready breakfast was served, we had a mixture of food, like eggs, bacon, toast and cereal.
Then we headed off to the Electoral Education Centre. We watched a 13 minute video of an introduction and learnt about the timeline and rules of voting. After the video was finished we went into a discovery zone where there were 5 different colour sections with information we needed to find out.
After the discovery zone we went into another room where we got to role play the voting process while we also learnt more things. Then we left the Electoral Education Centre and drove to a beautiful look out in Canberra, to eat recess.
Our next stop was Questacon where we got to go anywhere we wanted.
There were so many things to do like the 6 metre drop, crafts, control a robot and lots more. We spent so much time in Questacon playing with our friends. After all the chaos, we went to the souvenir shop to purchase something we wanted. There was lots to choose from. A favourite souvenir was slime and putty. Then we hopped on the bus and stopped to eat lunch. We had a choice of lettuce and chicken sandwich or ham and cheese sandwich. After we ate lunch we continued the long bus trip to McDonalds. Then we went back home.
Overall our camp experience was a trip we would never forget.
Monique Bejjani, Isabella Matta and Imogen Burns
Thank you for the support of the Australian Government through the PACER contribution and the unit of work our students were studying leading up to this trip.