Sacred Heart Primary students bury time capsule for Catholic Schools Week
10 May 2018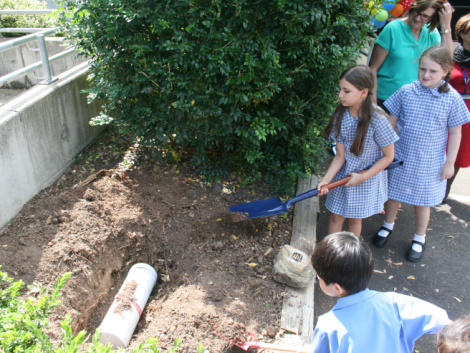 Students helped to bury the time capsule
The theme of Catholic Schools Week is education for today and tomorrow and students and teachers at Sacred Heart Primary have thought creatively about the students of the future, leaving them a time capsule to be opened in 50 years time.
At a special assembly on Thursday 12 March, student representatives from each year group contributed items including photos, school newsletters, letters to future parents, staff, Principal and Parish Priest.
Students included information about excursions and camps, their learning experiences, technology used at the school and what a typical day at Sacred Heart Primary is all about.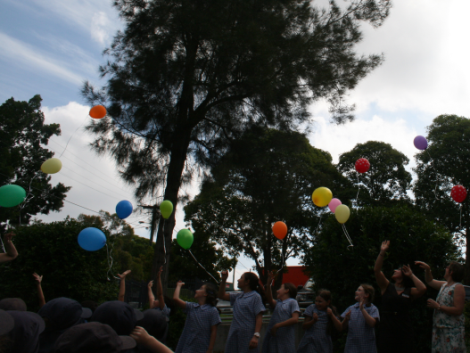 Balloons were released at the end of the ceremony
After items were placed in the capsule, student staff and parent representatives helped to seal it and bury it in the school garden. Fr Robert Anderson blessed the capsule and Principal Mary Harb placed a commemorative plaque.
Students and staff along with Fr Robert and Miss Harb were then invited to release balloons as a symbol of the past, the present and the future hopes and dreams of the community at Sacred Heart Primary.
'As we release the balloons, we let go of the past, we celebrate the present and we look forward to what the future holds,' said Principal Mary Harb.
The ceremony was concluded with three cheers for Catholic Schools Week.